When we first arrived in Thailand, we spent a few days in Bangkok. We stayed in the heart of the city, at the Intercontinental Bangkok. I can't say enough good things about that hotel. The service level we experienced there easily put it close to the top of my favorite hotels list! If you're heading to Bangkok, stay there! We had several things on the list of "must see" places. After spending the first day adjusting to the 15 hour time difference with a few naps and a visit to the spa, we woke up well rested, ready to check out a few of the Buddhist temples!
The temples we wanted to visit were about 30 minutes outside of the city, and they were easily accessible via a short trip on the railway and a ferry boat. It's also really inexpensive to visit these temples, costing less than $3.
Our first stop was Wat Arun, or the "Temple of Dawn". Wat Arun is situated right along the river bank, and it was beautiful! We experienced a lot of surreal moments in Thailand, and our first occurred at Wat Arun. It had started to rain when we arrived at the temple, and most of the guests were departing. We walked in to the ordination hall to get out of the rain for a minute, and saw one of the Monks that lived there. He signaled us to sit in front of him, inviting us to a traditional Thai blessing ceremony. He then placed a white string called "sai sin" on our wrists. The sai sin is thought to provide protection and good health to the person wearing it. Then he sprinkled holy water on both of us, reciting a Buddhist prayer, and wished us good luck and fortune. It was a really special moment for us, and since we've been home, the bracelets are a continued reminder of that.
After walking through the rest of Wat Arun, we made our way across the river to Wat Pho. Wat Pho, or the "Temple of the Reclining Buddha", is the oldest and largest temple in Bangkok. It also houses the largest Buddha statue in Thailand. Reclining Buddha is about 150 feet long and and 50 feet high.
The detail in these temples was incredible, and I couldn't get over how much time and patience it took to build these sacred spaces. In addition to being such a beautiful and spiritual place, Wat Pho is also the birthplace of the traditional "Thai" massage. The site is the center of education for Thai medicine. There are two major sections of Wat Pho. The first is the massage school, and the second is a Buddhist monastery, with monks in residence and in school. We got invited to sit with the monks while they chanted their evening prayers. This was another one of those surreal moments. It was such a special, memorable experience to be a part of. More good luck was wished upon us, and we left the temple feeling very blessed.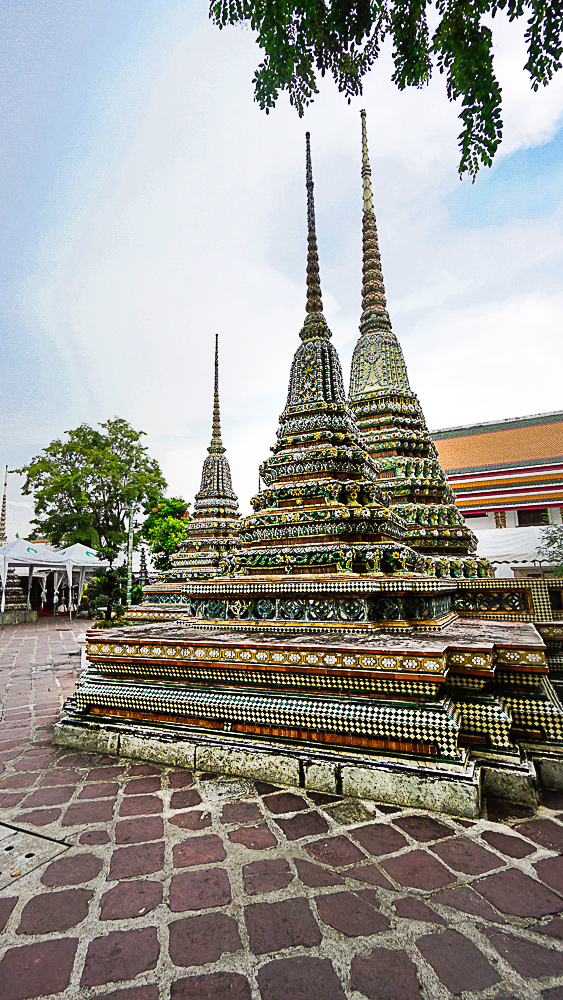 We took a tuk-tuk (bicycle taxi) to the flower market before heading back to the city. The market has all kinds of popular flowers, including roses, forget me nots, orchids...and it's open 24 hours. The flower market is a great way to witness the inspiring work ethic of Thai culture. They're up at all hours of the night, selling their goods to support their families.
The next morning, we headed to Ayutthaya. Ayutthaya is a historic city, about an hour away from Bangkok, founded in 1350. It's now full of ruins and is a protected UNESCO world heritage site. The capital city was attacked by the Burmese army in the late 1700's. They set fire to each temple and burned the city to the ground. They also cut all the heads off of the statues to show their disrespect to the Siam empire. Some statue heads have since been replaced, to show that no attack can defeat the spirit of this city! It's one of the largest cities in Thailand, but all that remains today are reliquary towers and Buddhist monasteries of monumental proportions. We explored 3 ancient ruin sites: Wat Chaiwattanarm, Wat Yai Chai Mang Khon, and Wat Phra Si Sanphet. To see how incredible these ruins are, check out the galleries below!
Each historic site was like exploring another planet and time traveling to another era, all at the same time. If you find yourself in Bangkok, a trip to this old city is something you absolutely should have on your list. We booked it pretty last minute with TakeMeTours, which is like uber with a tour guide, and they were awesome! You get a local who knows the area to show you around on your own schedule, specific to the locations you want to see. Our tour guide was so knowledgable about all the areas we wanted to see!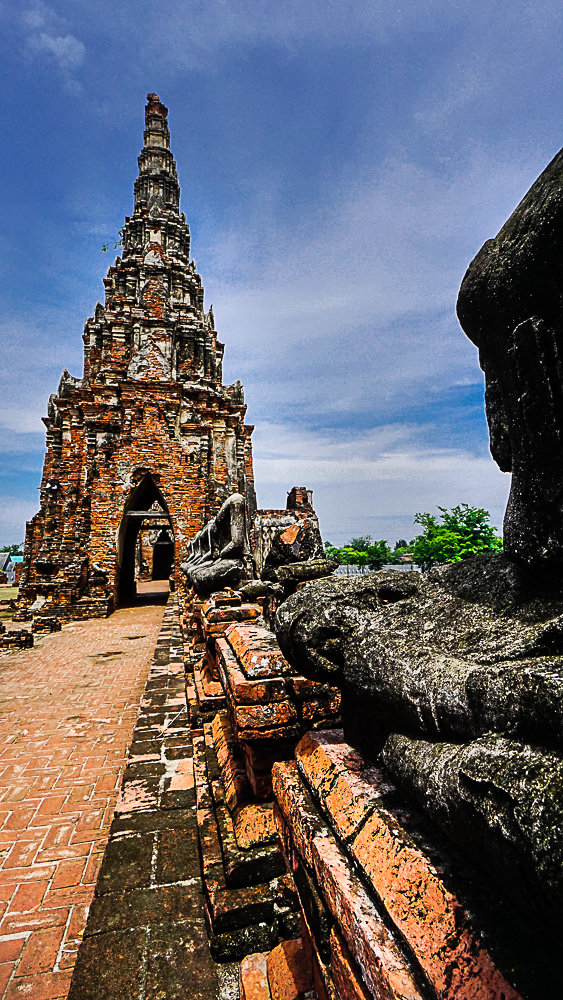 We made a quick stop at the floating market for lunch (also a must-see!) and the Summer Palace, a compound formerly housing Thai kings and other royals. The dress code at some of these places is enforced, and modest, so double check the rules before heading out for the day.
I love visiting places like this. You can feel the energy of those that inhabited the city all those years ago, and you know you're experiencing something magical. At each temple, there's special altars that you can leave offerings in exchange for good fortune for loved ones and yourself. We got to experience Kau Cim, a "fortune telling" practice where you kneel at the altar, and shake a cylinder filled with bamboo sticks until one falls out. They're all numbered, and you match your number with the prayers or predictions hanging near the altar. If your prediction is good, you're advised to take it to bring the luck with you. If it's not, you leave it behind. It was another one of those "surreal" moments I mentioned earlier, because my prediction was something that I'd really love to keep! This country left such an imprint on our hearts. These moments, along with the people we encountered, are why!